Embrace Luxury
Welcome to INFINITI of Kearny Mesa, your gateway to a luxurious driving experience embodied by the meticulously crafted 2023 INFINITI QX50. At our dealership nestled in the heart of San Diego, we invite you to discover a harmonious fusion of cutting-edge design, advanced features, and refined driving dynamics redefining the art of automotive excellence. The QX50, adorned with sculpted lines and a captivating wide stance, offers a captivating blend of unpretentious luxury and innovative technology. As you explore our inventory, immerse yourself in a world where sophistication meets simplicity, where the QX50's driver-focused design, premium technology, and safety innovations elevate your driving pleasure. Our commitment extends beyond showcasing this remarkable crossover SUV; we strive to assist you in finding the perfect fit from our range of new and pre-owned vehicles, providing tailored financing options for your next automotive venture
Design Excellence
Crafted to captivate, the 2023 INFINITI QX50 embodies a bold and dynamic aesthetic that goes beyond mere looks. Its sculpted lines, swooping curves, and commanding stance encapsulate a visual symphony, an automotive masterpiece that demands attention on every street it graces. Adorned with premium features, the QX50 exudes elegance both inside and out. Step inside and experience a sanctuary where every detail has been meticulously tailored to create an oasis of comfort and sophistication. The driver-centric design harmonizes with the available ambient lighting, quilted semi-aniline leather-appointed seating, and a leather-wrapped steering wheel, ensuring a tactile and luxurious experience. The advanced climate control system, along with available heated front and rear outward seats, further enhances the ambiance, making every drive a truly indulgent experience. Beyond its captivating exterior, the QX50 seamlessly blends design prowess with functionality, offering maximum cargo space of up to 65.1 cubic feet, ensuring versatility to accompany its luxurious allure. Explore the fusion of artistry and functionality within the INFINITI QX50, where design sophistication meets unparalleled practicality.
Tailored Trims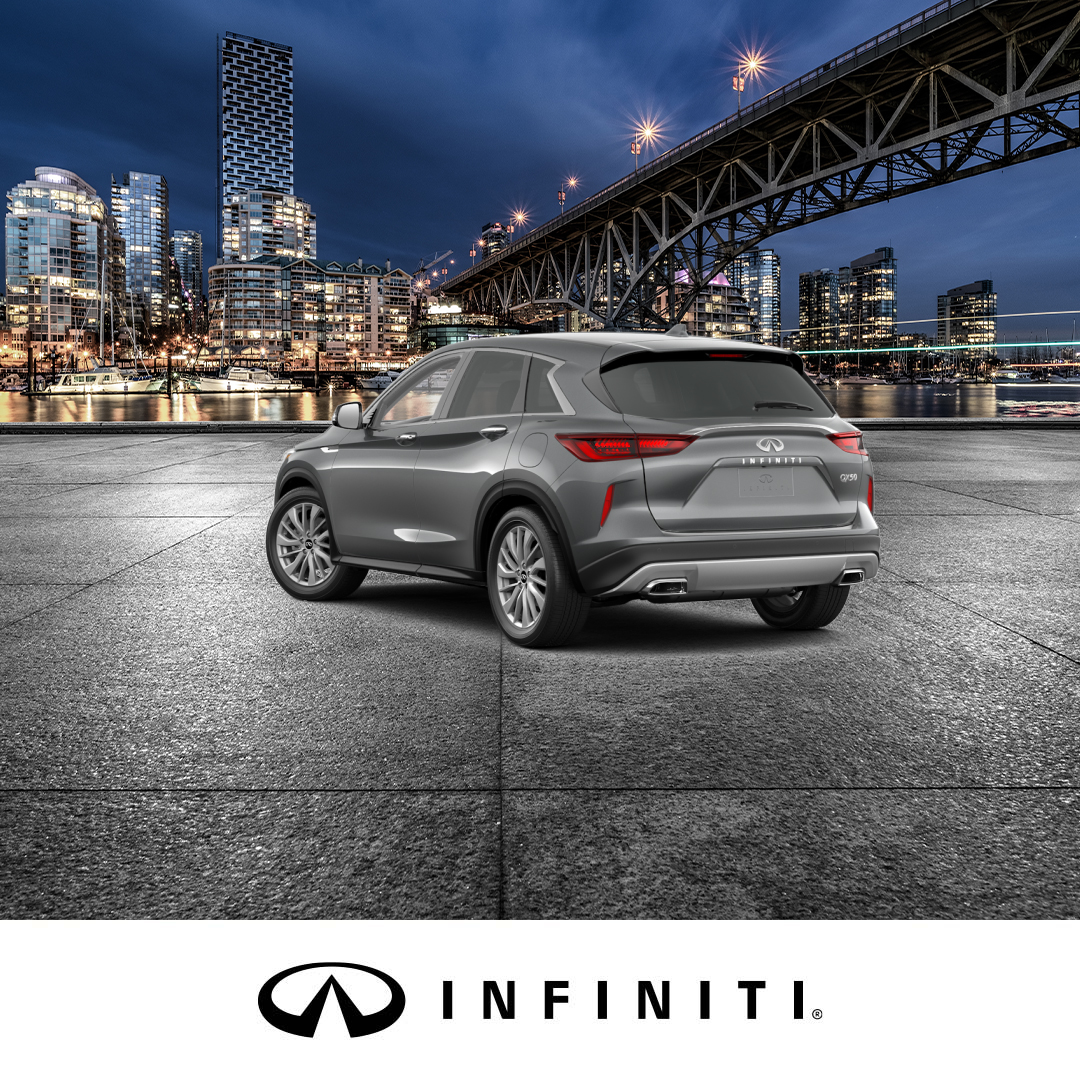 The 2023 INFINITI QX50 offers a meticulously curated range of trim options, each catering to distinct preferences and requirements, ensuring a tailored experience for every driver.
QX50 PURE
The entry-level option sets the stage with an array of sophisticated features, including Wireless Apple CarPlay® integration, ProPILOT ASSIST with Intelligent Cruise Control and Steering Assist, Rear Automatic Braking, Forward Emergency Braking with pedestrian detection, and Blind Spot Warning.
QX50 PURE AWD
Building upon the foundation of the PURE trim, this variant boasts Intelligent All-Wheel Drive, AWD Badge, Brake Assist, and Predictive Forward Collision Warning and Forward Emergency Braking with Pedestrian Detection.
QX50 LUXE
Elevating the experience, the LUXE trim introduces the opulence of a Panoramic Moonroof with Power Shade, Power Auto-Folding Heated Outside Mirrors, Leather-Appointed Seating, and a Remote Engine Start System.
QX50 LUXE AWD
Expanding on the LUXE trim, this variant embraces Intelligent All-Wheel Drive, AWD Badge, Power Liftgate, Lane Departure Warning, and Rear Cross-Traffic Alert.
QX50 SPORT
Geared towards enthusiasts, the SPORT trim offers Navigation with real-time traffic information, an Around View Monitor® with Moving Object Detection, a Bose™ Performance Series 16-speaker sound system, and a Heated Steering Wheel for an enhanced driving experience.
QX50 SPORT AWD
Mirroring the SPORT trim with the addition of Intelligent All-Wheel Drive, AWD Badge, Bose™ Performance Series 16-speaker sound system, Power Auto-Folding Heated Outside Mirrors, and Rain-Sensing Windshield Wipers.
QX50 SENSORY
Stepping into the realm of luxury, the SENSORY trim presents Semi-Aniline Leather-Appointed Interior and Heated Rear Seats, Cube Design LED Headlights, Head-up display, and 20-inch silver painted and machine-finished wheels for an unparalleled statement of elegance.
QX50 SENSORY AWD
Offering the pinnacle of luxury with Intelligent All-Wheel Drive, AWD Badge, Dual Zone Automatic Temperatures Control System with Rear Seat Vents, and INFINITI InTouch™ with Wi-Fi Hotspot.
QX50 AUTOGRAPH AWD
At the zenith of the lineup, the AUTOGRAPH AWD trim exudes exclusivity with Unique 20-inch dark painted wheels, up to 3,000 lbs. towing capacity, Natural Maple Wood Interior Trim Accents, Enhanced Ambient Lighting, Quilted Semi-Aniline Leather-Appointed seating with Ultrasuede®, and a Rear Passenger Sunshade, ensuring an experience of unmatched luxury and refinement.
Each trim of the 2023 INFINITI QX50 embodies a unique blend of technology, luxury, and performance, catering to diverse tastes and preferences while maintaining INFINITI's hallmark of uncompromising quality and craftsmanship.
Innovative Powertrain and Performance
The 2023 INFINITI QX50 impresses with its innovative powertrain, featuring a potent yet efficient 2.0-liter VC-Turbo engine. This groundbreaking Variable Compression Turbocharged powerplant delivers an exceptional balance of power and fuel efficiency. With its adaptive nature, the VC-Turbo can seamlessly adjust its compression ratio, optimizing performance or prioritizing fuel economy based on driving conditions, ensuring an exhilarating drive without compromising efficiency.
Mated to a refined Continuously Variable Transmission (CVT), the QX50's powertrain delivers smooth acceleration and a responsive driving experience. The CVT's intelligent tuning complements the VC-Turbo engine, ensuring precise power delivery and enhancing the driving dynamics.
The combination of the innovative VC-Turbo engine and the CVT transmission results in an impressive performance, offering robust horsepower and torque figures while maintaining commendable fuel efficiency. The QX50's handling is agile and confident, thanks to its well-tuned suspension and responsive steering, providing a refined driving experience whether navigating city streets or cruising on the open highway.
Moreover, the availability of Intelligent All-Wheel Drive (AWD) enhances the QX50's traction and stability, ensuring optimal performance in various road conditions. Whether it's tackling inclement weather or venturing off the beaten path, the AWD system offers reassurance and confidence to drivers, elevating the QX50's overall capability and versatility."
This encapsulates the powertrain, transmission, and performance aspects of the 2023 INFINITI QX50, highlighting its innovative engine technology, transmission system, and driving dynamics.
Real-World Efficiency: Fuel Economy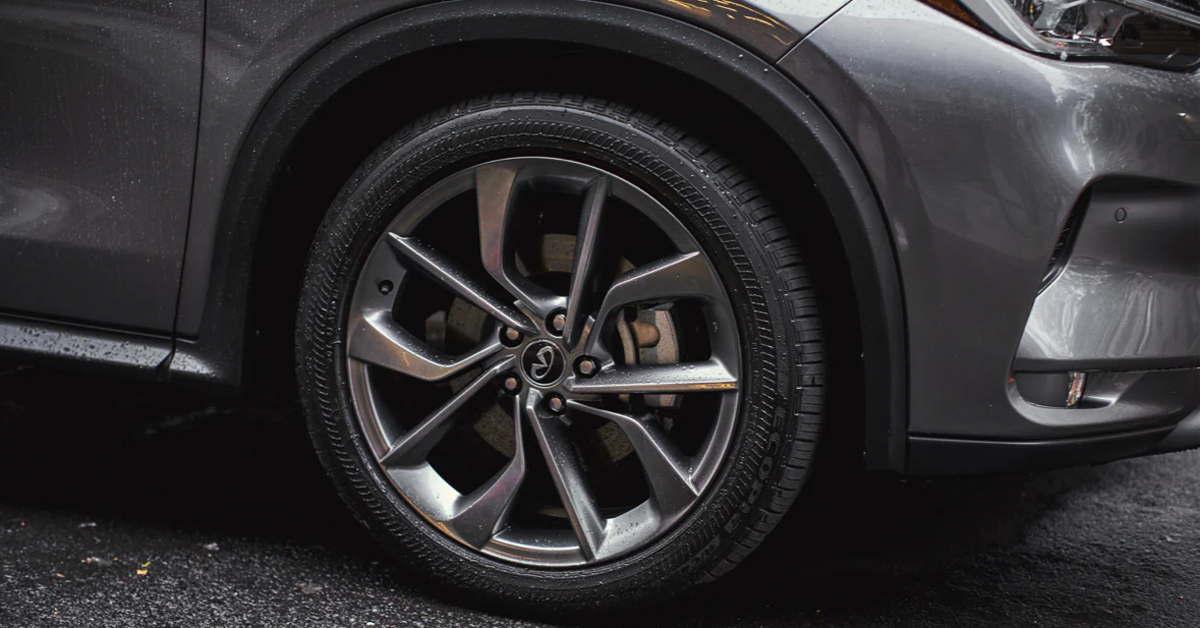 The 2023 INFINITI QX50 offers a balance between performance and efficiency, but real-world fuel economy might slightly vary from the estimated figures. The front-wheel-drive configuration delivers an estimated 23 mpg in the city and 29 mpg on the highway, while the all-wheel-drive variant achieves an estimated 22 mpg in the city and 28 mpg on the highway. However, during real-world testing, the QX50's fuel efficiency may deviate slightly from these estimates. In practical scenarios, the QX50 has showcased decent fuel economy, aligning closely with its competitors in this segment. Factors like driving habits, road conditions, and terrain might influence actual fuel efficiency, but overall, the QX50 maintains a commendable balance between performance and fuel economy.
Interior Comfort and Cargo Space
Cocooned in comfort and spaciousness, the INFINITI QX50 boasts an interior designed to elevate every journey. Embracing a luxurious ambiance, this crossover offers an array of upscale materials, including quilted leather seats and wood interior trim, elevating the cabin's aesthetic appeal. The rear bench's sliding and reclining functionality add versatility, ensuring ample legroom and headspace for passengers. Cargo-wise, the QX50 doesn't compromise; it offers a generous 31 cubic feet behind the rear seats, expandable to a capacious 65 cubic feet when the rear bench is folded flat. Whether accommodating passengers or cargo, the QX50 effortlessly blends opulence with practicality, making every drive a refined experience.
Cutting-Edge Infotainment and Connectivity
The INFINITI QX50's infotainment system blends modern functionality with intuitive design, featuring a dual-touchscreen setup that might challenge traditional interfaces but offers comprehensive control. While the dual screens may pose a learning curve, they grant access to an array of features, including navigation, audio controls, and vehicle settings. The top 8-inch screen handles primary functions like navigation, while the lower 7-inch display caters to audio and climate controls. Apple CarPlay and Android Auto integration offer seamless smartphone connectivity, complemented by a subscription-based Wi-Fi hotspot for on-the-go connectivity. The available Bose sound systems, ranging from 12 to 16 speakers, ensure an immersive audio experience, while the addition of wireless smartphone charging and multiple USB ports ensures convenience for all passengers.
Safety Features and Driver Assistance
The INFINITI QX50 stands as a paragon of safety, boasting an extensive suite of standard driver-assistance features that prioritize occupant security. Its comprehensive safety tech encompasses Blind Spot Warning and Blind Spot Intervention, ProPILOT Assist, a Head-Up Display, Around View Monitor Moving Object Detection, and Predictive Forward Collision Warning. These systems work synergistically to enhance awareness, alertness, and overall safety, providing drivers with a comprehensive safety net that covers blind spots, assists in maintaining a safe distance, and mitigates potential collision risks. Moreover, the QX50 excels in providing ample headroom, catering even to taller occupants, ensuring a comfortable and secure driving experience for all passengers.
Warranty and Comprehensive Coverage
The INFINITI QX50 offers a competitive warranty and maintenance coverage, aligning with the standards of luxury brands. It includes a limited warranty covering four years or 60,000 miles, while the powertrain warranty extends for six years or 70,000 miles. Additionally, the QX50 incorporates three years or 22,500 miles of complimentary maintenance, emphasizing INFINITI's commitment to ensuring the vehicle's ongoing performance and reliability. Furthermore, INFINITI provides four years of roadside assistance, ensuring peace of mind on the road in case of unexpected mishaps or breakdowns.
The INFINITI QX50 epitomizes luxury, sophistication, and innovation, delivering an impressive blend of comfort, technology, and safety features. With its striking design, versatile trim options, and advanced connectivity, it stands as a compelling choice in the compact SUV market. Despite some considerations in performance and fuel efficiency, its spacious interior, abundant safety tech, and generous warranty make it a desirable option for those seeking a refined driving experience.
Ready to experience the pinnacle of luxury and innovation? Explore the INFINITI QX50 at INFINITI of Kearny Mesa and discover a new standard of excellence. Whether it's the driver-focused design, the cutting-edge infotainment, or the array of safety features, the QX50 is tailored to elevate your driving experience. Book a test drive today and unlock the world of unpretentious luxury reimagined in the 2023 INFINITI QX50.